Episode 5
आसान तरीके से Charts Track करे | TradingView का पूर्ण प्रयोग सीखे |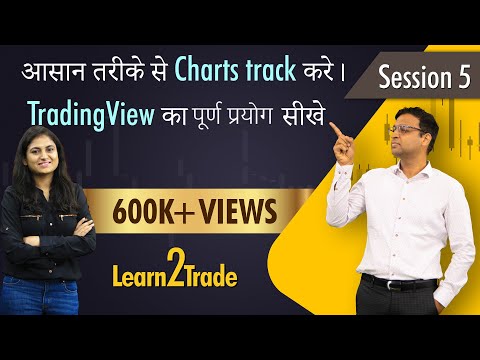 Check out Mr. Vivek Bajaj's fifth episode for TradingView Tutorial , as he will direct a novice on the most proficient method to involve free TradingView chart analysis. He will provide a complete instructional exercise on TradingView and its various elements that a trader can use, from tracking indicators, and drawing trend lines to getting public library access. As a dealer, you need to monitor trends, define your play and then trade accordingly. He will examine how to oversee risk while trading according to the pattern or trading as a contrarian. He will also help comprehend the different market drifts and recognize these patterns using diagrams. To become an effective trader, one must know how to recognize stocks with ideal gambles and rewards. Watch this video for a free and detailed beginner's guide to technical analysis via TradingView.
Frequently Asked Questions on TradingView Tutorial
Is TradingView good for beginners?
Anyone can use technical analysis software to apply their understanding and examine price charts. Mr. Vivek Bajaj will discuss everything you need to know in this TradingView tutorial so that you can start using the platform with ease. To follow along, he advises you to open TradingView in a different window.
How do I learn to use Tradingview?
Using the TradingView Tutorial, a beginner can learn the best practices for incorporating free TradingView chart analysis. Mr. Vivek Bajaj will thoroughly demonstrate TradingView's instructional exercises, including how to track indicators, draw trend lines, and access public libraries.
About

Mr. Vivek Bajaj

The passion for data, analytics and technology is what makes Vivek Bajaj a financial market survivor. The journey as a market participant started in 2002 when the first trade was executed in the options contract of ITC. Life was simpler and easier during that time. Since then technology and Big data have taken over totally. As an early adapter to the complex tools, Kredent was formed to capitalise on the opportunities. He is co-founder of StockEdge and is committed to bring simplicity in the complex world of market data. He is a Chartered Accountant, Company Secretary and an MBA from IIM Indore. He is a part of various committees of exchanges and regulator and he has been an active contributor in the evolution of Indian Derivatives Market.